Mineral Intelligence: Shifting HR and Compliance from Reactive to Proactive
As we announced earlier this month, we at Mineral are developing products to make HR and compliance simple for small businesses. Today we're thrilled to tell you a little more about Mineral Intelligence, the industry's first-of-its-kind, real-time, proactive HR and compliance engine that powers our new platform.
The Problem
It's a given that laws will change, and as your company grows, it will be subject to new requirements. Keeping up with these changes is a pain, especially when you're running a small business. It can feel impossible. Overwhelming. Googling your way through is, at best, a temporary solution, and one with no guarantees you aren't making a mistake that could put your business at risk. On top of that, new laws and policy changes brought on by the pandemic has only made an already complex environment that much worse.
According to the 2021 State of HR Report, complying with laws was a significant struggle for employers in 2020. In fact, when asked which HR and compliance issues were most challenging, staying on top of changes in federal (63%), state (59%) and local laws (34%) were the top three answers.
Missing a regulatory update or compliance action can also be expensive. A single employee lawsuit can cost a company up to $250,000. To make things worse, employers are often out of compliance simply because they don't know any better. For example, an employer that recently hired their 50th employee might not know that they're subject to the Family and Medical Leave Act (FMLA) until an employee files a lawsuit or complaint.
As one of our customers recently stated, "We have to be Benefits and ACA experts, as well as understand the related touch points that involve HR, state and federal laws, compliance, taxes and more." It's impossible to keep up with while keeping your business running, which is a big reason behind our recent launch of Mineral Intelligence.
The Solution
Mineral Intelligence leverages your client profile along with federal and state law data to monitor your business's unique internal changes as well as changes in its external environment. It ensures that you are aware of your evolving responsibilities, can plan ahead, and avoid the costs and distraction of non-compliance. Here's a closer look.
Don't get caught off guard by regulatory and legislative changes.
With Mineral Intelligence you can rest easy knowing we're continuously monitoring more than 3,000 federal and state legislation changes around the clock on your behalf.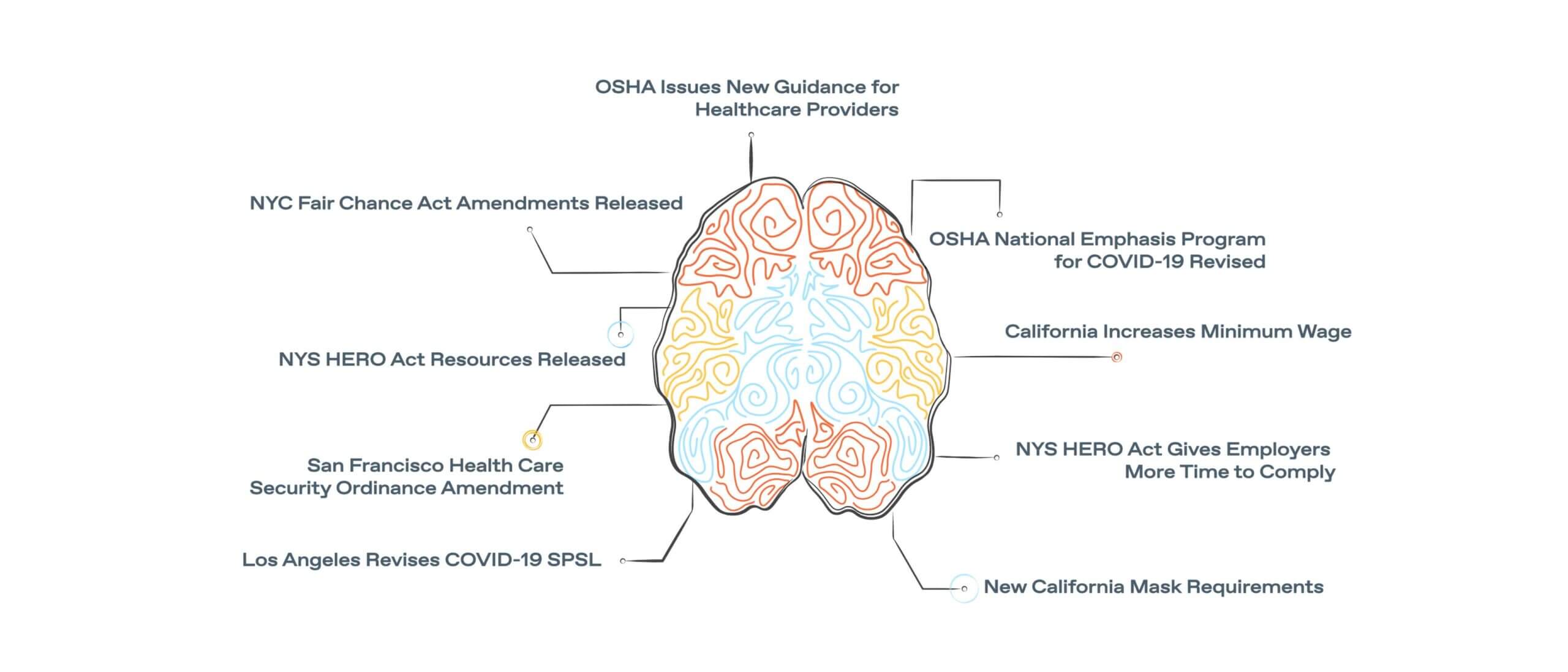 Proactive HR and compliance that's scales with your business
Imagine that you've expanded your business (congratulations!) to Oregon and have just hired your first employee there. But what do you know about Oregon employment law? Chances are you don't know much. But that's ok. Because you're managing HR and compliance on the Mineral Platform, you can count on Mineral Intelligence to proactively notify you of new steps you need to take as the result of your headcount growth in a new state.
One place to check everything off your HR and compliance list
Besides proactively notifying you of changes that require action, Mineral Intelligence conveniently collects all your to-dos and relevant resources in one handy list. By giving you one place to track and check off your action items, you'll always stay ahead of the HR and compliance curve.

What does all that mean for you? Less guesswork. Less stress. More time to grow your business. And more peace of mind.

Join us next week when we take an in-depth look at our Mineral Platform.